AACTFest 2019: Adjudication Training
AACT Adjudication Training
Sessions June 17 - 21, 2019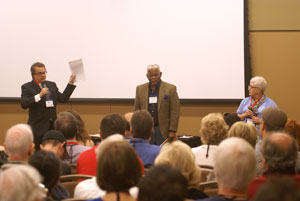 AACT offers two options:  The Adjudication Seminar is a five-day intensive, and the Adjudication Workshop is an introductory one-time workshop. 
Quality adjudication is one of the key ingredients for a festival at any level. To help develop a strong pool of adjudicators, AACT offers Adjudication Training at the national festival.
How It Works
The Adjudication Seminar is an intensive five days of instruction and practical application that begins on Monday, June 17, and continues throughout the festival. Participants will learn the skills of adjudicating and gain practical experience through observing and critiquing the festival shows.
The schedule for the 2019 national festival includes each company performing once, with adjudication immediately following. The Adjudication Seminar will meet for instruction in the mornings, view the shows, and then  reconvene again in the evenings or the next morning to review performances. 
Adjudication Seminar Registration & Fees
The AACT Adjudication Training is part of the national festival, but requires an extra fee ($135) to help cover the costs of the five plus days of intensive instruction. Register for the training when you register for AACTFest.
Adjudication Workshop
If you are interested in the adjudication process, but can't take the five-day seminar, we are offering a separate Introduction to Adjudication Workshop. The fee for the workshop is $30. Register for the workshop when you register for AACTFest.  
To add Adjudication Training, contact AACT office separately at 817-732-3177 or info@aact.org
---
Workshop Facilitator: Kathy Pingel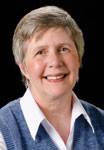 Conducting the Adjudication Seminar and the Introduction to Adjudication Workshop is Kathy Pingel. Kathy has adjudicated at the state, regional, national, and international levels, and has taught workshops in improvisation, directing, and senior theatre. She also facilitated AACT's National Theatre Education Directors Conference. Kathy was the Director of Education and Youth Programming at the Des Community Playhouse for 10 years, and also served as Artistic Director of the Kate Goldman Children's Theatre. She holds a BA in Theatre from Eastern Michigan University, where she studied with Virginia Koste, and an MA from Northwestern University in Performance Studies, where she worked with Frank Galati. She also holds an MA in Teaching from Northwestern.
AACTFest 2019 Adjudication Seminar Schedule
Monday , June 17
6:00 pm – 8:00 pm       Joint Session A: Synopsis of AACT Adjudication
  *For Adjudication workshop registrants and required for those enrolled in the full seminar. 
Tuesday, June 18
9:00 am – 12:00 pm      Seminar Session One: Introducing the Basics
12:00 pm – 1:00 pm       Lunch break
1:00 pm – 4:00 pm       Seminar Session Two: Selecting a Focus for Adjudication
7:00 pm – 10:30 pm     Performance Session I: 2 shows The Pillowman, Walking with Ancestors
   + Seminar Session Three: Preparing to Offer Full Solo Adjudication and Understanding Self-Assessment
Wednesday, June 19
9:00 am – 12:00 pm     Seminar Session Four:  Solo Adjudication Practicum
12:00 pm – 1:00 pm      Lunch break
1:00 pm – 4:15 pm        Performance Session II: 2 Shows - The Diviners, Silent Sky
7:00 pm – 11:00 pm     Performance Session III: 2 Shows- Who will Sing for Lena? A Life
                                      + Seminar Session Five:  Extemporaneous Solo Adjudication Practicum
Thursday, June 20
9:00 am – 12:00 pm     Seminar Session Six: Preparing for Panel Adjudication and Planning for an Adjudication Gig
12:00 pm – 1:00 pm      Lunch break
1:00 pm – 3:30 pm        Performance Session IV: 2 shows- Kaleidoscope, Lockdown (Youth)
3:30 pm – 3:34 pm        Audience break
3:45 pm – 6:30 pm       Performance Session V: 2 shows -A Pretty Trap, Once Upon a Mattress (Youth)|
                                       + Seminar Session Seven:  Adjudication Practicum I
Friday, June 21
10:30 am – 11:30 am   Seminar: TBA 
11:30 pm  -  Keynote
1:00 pm – 4:45 pm        Performance Session VI: 3 Shows -Romeo and Juliet, Back Cover (Youth), Keeping Mr. Lincoln (Youth)
4:45 pm – 6:30 pm      Seminar Session Eight: Adjudication Practicum II
6:30 pm                         Board Annual Meeting 
7:30 pm – 9:55 pm        Performance Session VII: 2 Shows-The Dixie Swim Club, 1984 (Youth)
Saturday, June 22
9:00 am – 12:00 pm     Seminar Session Nine:  Preparing for Final Adjudication and Understanding the Awards Process
12:00 pm – 1:00 pm      Lunch break
12:00 pm – 3:10 pm      Performance Session VIII:3 Shows - The Other Place, The Marriage Play, This Side of Heaven (Youth)
3:30 pm – 6:00 pm       Seminar Session Ten: Final Adjudication Practicum and Awards Reckoning 
7:30 pm - 8:30 pm         Pre-Awards Cocktail Party
8:00 pm – 9:30 pm        Awards Ceremony
9:30 pm                         Awards Party – Gettysburg Hotel
Sunday, June 23
8:30-9:30 am               Seminar Session Eleven:  Wrapping Up