The National Festival offers an excellent laboratory for AACT's Adjudication Workshop. This intensive workshop will begin on Tuesday evening, June 23 and continue throughout the festival, culminating on Saturday, June 27. There is also an optional session over breakfast on Sunday to share your opinions of the awards presented. Participants will learn the skills of adjudicating and gain practical experience through observing and critiquing the festival shows. Sessions will be Tuesday evening and mornings (when other workshops are meeting), then between the shows (when the audience is hearing from the national adjudicators) the workshop participants will practice adjudicating the shows and receive feedback in the workshop setting.
An Introduction to Adjudication Workshop will offered for directors and others who are not interested in being adjudicators, but want an insight into the adjudication process. It will be on Tuesday, June 23, 6:30-8:30 pm.
 
Workshop Leader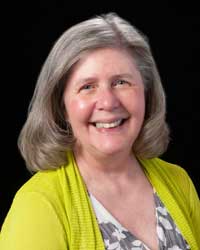 Conducting both the Adjudication Workshop and the Intro to Adjudication Workshop is Kathy Pingel from North Port, Florida. Kathy has adjudicated at the state, regional, national and international level for the American Association of Community Theatre.  She has taught workshops in improvisation, directing and senior theatre. She also facilitated AACT's Theatre Education Director's Conference in August, 2010.
Kathy Pingel was the Director of Education and Youth Programming at the Des Community Playhouse for ten years, having recently retired in November, 2014.  She also served as Artistic Director of the Kate Goldman Children's Theatre. She holds a BA in theatre from Eastern Michigan University where she studied with Virginia Koste and a MA from Northwestern University in Performance Studies where she worked with Frank Galati.  She also holds a MAT in teaching from Northwestern.
Registration

The AACT Adjudication Workshop is part of the national festival, but requires an extra fee ($135) to help cover the costs of the four plus days of intensive instruction. The fee for the Intro to Adjudication is $25. Register for the either workshop when you register for AACTFest. For more information contact the AACT office.