Community Theatre Mgt Conference (CTMC)


CTMC attendees 2019, Gettysburg Pennsylvania
June 11-13, 2023
Louisville, Kentucky
Prior to AACTFest 2023
Gain new insights and solid, practical information on a wide variety of topics important to you and your theatre, including:
Sales and Marketing
Other Sources of Earned Income
Fundraising and Development
Event Planning

Season and Play Selections
Volunteers
Education and Outreach
Box Office Operations

Board
Reopening
and more!
AT CTMC you will:
Learn through a customized series of intensive, topic-specific, large and small group discussions that speak directly to your unique challenges and experiences.
Discover important perspectives from administrators at all levels— from the volunteer who "runs things around here" to the "just starting" part-time administrator, to the full-time professional manager. All are encouraged to attend!
Fine-tune your management skills 
Help prioritize and suggest topics for discussion through a pre-conference questionnaire
Facilitator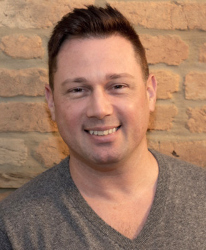 Our Conference Facilitator is Chad-Alan Carr, Founding Executive/Artistic Director, Gettysburg (PA) Community Theatre. He serves on the AACT Board of Directors, and was the Chair of the AACT National Youth Festival at AACTFest 2017 and  AACTFest 2019. His accomplishments include directing the Eastern States Regional Premiere of The Penguin Project (theatre for youth with special needs), chartering the International Thespian Troupe for Gettysburg Area High School, and serving as a board member for Pennsylvania Association of Community Theatres, Eastern States Theatre Association, as well as AACT. A frequent presenter at AACTFests and participant in AACT Roundtables, Chad-Alan brings to CTMC a wealth of experience and an ability to create dynamic group interactions.
Testimonials from Previous Participants: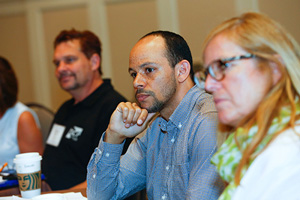 "I especially appreciate the openness and honesty the group was able to achieve, without judgement or disparagement.  That was what made this conference so helpful. As Chad-Alan reminded us, we are  not alone and knowing that others in the theater community share our devotion and love for the arts as well as our worries and challenges was very reassuring and inspiring." - Dianne Beaulieu-Arms, Poison Apple Productions, Pittsburg, California
"I was totally amazed by the planning here and the wonderful offerings of the other members present;  this was my first time and I have to say it was a totally rewarding experience and I took copious notes and will be reviewing them and re-transcribing them in the next two days!  Wow!  Kudos to all who organized this and  specifically to Winston!  You had it all covered!  Wow!  Thank you!" - Richard Grieger, The Summer Place, Naperville, Illinois
---
Conference Schedule 

(subject to change)
| | |
| --- | --- |
| Sunday, June 11 |   |
| 1 pm | Registration & begin Roundtable Discussions |
| 5:30 pm  | Dinner Break |
| 7 pm  | Roundtable Discussions |
| 10 pm | Sessions end for the day |
|   |   |
| Monday, June 12 |   |
| 8:30 am | Roundtable Discussions |
| 11:30 am | Lunch (Dutch Treat) |
| 1:30 pm | Roundtable Discussion |
| 8:30 pm | AACTFest Welcome Reception |
|   |   |
| Tuesday, June 13 |   |
| 8:30 am | Roundtable Discussion |
| Noon | Wrap-up! |
---
Conference Registration

Registration closes, Thursday, June 8, 2023.
Registration Fees*
 
 
 
By June 1, 2023
After June 1, 2023
AACT Member
$285
$315
Non-Member
$360
$390
     *AACTFest attendees receive a $15 discount. 
---
Hotel/Travel

CTMC will be held just prior to AACTFest 2023, and conference attendees receive the same special hotel and airline rates.
     >> Click here for hotel & airline special rates
          (a new window will open, so you can easily return to this page)
Consider spending the entire week at AACTFest to continue networking, attend workshops, and enjoy fine theatre!
---
**Refund Policy
Transfer/substitution requests are welcome through May 31, 2023. Refund, minus a 20% cancellation fee, will be made if cancellation and written request are received by May 31. For transfers or refunds please contact registrar, Karen Matheny at [email protected].