National Adjudicators 2017
Adjudicators & the Adjudication Process
The Role of the Adjudicator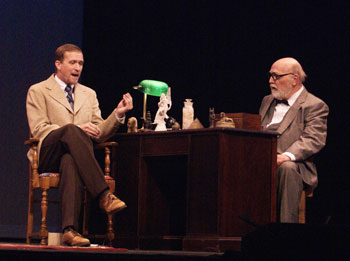 The most important function of the adjudicator is to serve as an educator. True, individual awards must be selected, but adjudication without a carefully prepared critique, which teaches as it evaluates, would deprive festival participants of a most valuable feature—opportunity for qualitative improvement. The successful judge must be objective, direct, and detailed in criticism, but with respect for all those involved in the production at hand.
Adjudicators for festivals in the AACTFest cycle have a wide range of theatrical training and experience. They view each festival production and share their observations with the entering companies and the audience. Plays are adjudicated based on the overall production, with acting and directing as the major elements. [Photo: Kokomo Civic Theatre's AACTFest 2015 production of  Freud's Last Session by Mark St. Germain  ]
All types of productions (comedy, drama, original works, musicals, revues, avant-garde, "controversial," etc.) are acceptable entries to the festival and must be considered on a similar basis, with the best production being the one most fully realizing the intent of the material and the concept for the show. 
Design and technical competence is to be given consideration as to its effectiveness as an integral part of the total production experience. Each company has a free choice of material (a one-act, a cutting, a selected act, etc.).   Adjudicators may not question the choice, except as to its appropriateness for the company, and comment only on how it was performed.
 
AACTFest 2017 National Adjudicators

The 2017 National AACTFest will host three experienced and nationally known adjudicators, with an equally qualified alternate in the wings, if needed. Their comments on productions will be a learning experience for all participating, from company members to the audience. 

Benny Sato Ambush (Boston, MA) is a veteran professional stage director (member of Society of Stage Directors and Choreographers), former institutional theatre leader, educator, published commentator and consultant. Currently, he is Senior Distinguished Producing Director-In-Residence of Emerson Stage, Emerson College Department of Performing Arts' producing organization in Boston; he also serves on its acting and directing faculty. He has served as Producing Artistic Director of the LORT C TheatreVirginia (Richmond, VA), SPT Oakland Ensemble Theatre (Oakland, CA), Interim Artistic Director of the Rites and Reason Theatre Company, Associate Artistic Director of San Francisco's American Conservatory Theater, and Co-Artistic Director of the San Francisco Bay Area Playwrights Festival. He has directed for many well-known professional theatres around the country. He has taught acting and directing to MFA, BFA and BA students in a number of colleges and universities in the US. He is a former Board Member of Theatre Communications Group (TCG) and is an Emeritus TCG Trustee. He is a member of The National Theatre Conference and is on the Executive Committee of the National Alliance of Acting Teachers. He has been a panelist and peer review site evaluator for the National Endowment for the Arts (NEA), several State Arts Councils, and the Philadelphia Theatre Initiative. He has a BA in Theatre Arts and Dramatic Literature from Brown University and an MFA in Directing from the University of California, San Diego

Morrie Enders (Lincoln, NE) is the Executive Director of Lincoln Community Playhouse in Nebraska.  For his efforts in leading the Playhouse, Morrie has been honored with a Mayor's Arts Award (2013) and Lincoln Nonprofit Executive of the Year (2015). The Playhouse has also received Mayor's Arts Awards Outstanding Arts Event (Penguin Project – 2014), and The Twink Lynch Organizational Achievement Award (2016). Previously, as Artistic Director of Kalamazoo Civic Theatre in Michigan, Morrie's directing credits included the community theatre pilot production of Avenue Q. For 18 seasons, Morrie served as Artistic/Managing Director of La Crosse Community Theatre (LCCT) in Wisconsin where he directed more than 90 plays, and LCCT received numerous awards at the state, regional, and national levels of AACTFest. His production of Cotton Patch Gospel was performed in Heidelberg, Germany for AACT Region X and at The Mondial du Theatre Festival in Monaco. Morrie's production of The Fantasticks represented the United States at the 1st Yakumo International Theatre Festival in Japan, and received the People's Choice Award. Morrie has facilitated the Managing Director's Conference for AACT, and received the AACT Distinguished Merit Award (2007) and was awarded the honorable designation of Fellow of AACT (2007).

Kristi Quinn (Dakota City, NE) has been active in community theatre for over 20 years. Her theatre experience includes acting, directing, set decoration, and costume design as well as public relations, grant writing, and development. She has adjudicated a number of festivals, and has participated as a core committee member and chair of several state and regional festivals. She has served as executive director of the Sioux City Community Theatre, and development director of the Sioux City Art Center. She also serves as artistic director for the Pioneer Valley Players in Sergeant Bluff, Iowa, and leads the theatre and speech programs at the Sergeant Bluff-Luton Community Schools. She also served as a board member of the Nebraska Association of Community Theatre. Formerly AACT's Vice President for Festivals, Kristi also served for six years as the Region V Representative on the AACT Board, and continues as a member of the Finance and Advocacy Committees. A firm believer in giving back to the community, Kristi is also the Regional and Development Operations Manager for Susan G. Komen Greater Iowa.

Alternate: Dennis Yslas  (Fort Worth, TX) is the new Executive Director of Texas Nonprofit Theatres. A proud member of American Association of Community Theatre, Dennis has adjudicated for AACT at the State and Regional levels. His first AACT experience was in 1993 when he stage managed an award-winning production of Six Women with Brain Death, produced by Theatre Arlington. He has judged high school speech tournaments at the state and national Levels, and is an active judge for Dallas Summer Musicals High School Music Theatre Awards. Dennis is the Chair of the North Texas Actors' Equity Association Liaison Committee (having been a member of the union for over 10 years), and has served on the Board of Governors for Texas Non-Profit Theatres  as the Vice-President of Strategic Planning, and as Administrator for AACT-member theatre MainStage, Irving-Las Colinas.  An award-winning actor and director in the Dallas-Fort Worth area, Dennis has been an actor for 40 years, having started his career on the Bozo the Clown TV show.