Script Club, offered every other month, is a collaborative conversation with peers about the selected script. Learn more about titles trending with community theatres, discover strategies for the challenges and opportunities, and network with other organizations producing the show.
Available for AACT members only; $10 (you must be signed in to the AACT website in order to register)

All events begin at 2:00 pm (Eastern) / 1:00 pm (Central) / 12:00 pm (Mountain) / 11:00 am (Pacific).

Attendees are expected to read the script before attending.

Access to webinar is one per registrant.
Recordings will not be available.
---
Coming Up

More Script Club presentations are in the works.  Watch for more information in the near future.
Recommended Reading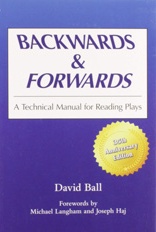 Backwards & Forwards: A Technical Manual for Reading Plays, by David Ball
The best-selling script analysis book for four decades
"In fewer than one hundred pages, this marvelously instructive book shows how to unlock the secrets of plot, character, theme, exposition, imagery, motivation, conflict, theatricality and pacing. . . . Our editor says he learned more about dramatic structure in the few hours he spent with this 96-page book than he has in his 20 years of theater experience." — Stage Directions