Youth Arts Leadership Conference 2020
Youth Arts Leader Conference
Building the next generation of arts leaders through the power of theatre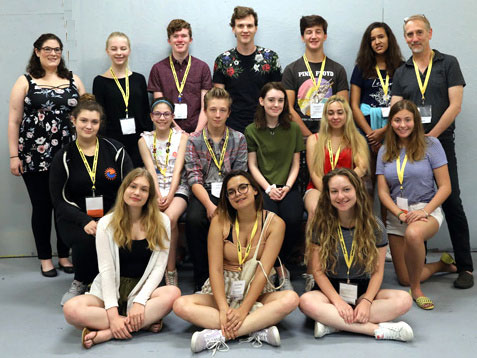 The 2020 AACT Youth Arts Leader Conference will take place in conjunction with aactWORLDFEST 2020 at the Venice (FL) Theatre, June 22-27, 2020.
Participants will enjoy a line-up of powerful theatre performances from around the world, and engage in educational lessons and activities that foster critical-thinking, leadership skills, and relationship-building with other youth from around the country.
The conference is open to young people ages 14-18, and will consist of theatre performances, round-table discussions, youth activities, educational workshops, and enlightening sessions.  The goal of this exciting conference is to instill confidence, knowledge, and team building skills in an exhilarating and stimulating experience.
At the 2020 Youth Arts Leader Conference:          
Meet someone new, learn something new
See amazing theatre from around the world
Share your theatre experiences with other youth from around the country and world
Chat about each day's performances, create your own list of favorites, and see how they line up
Team up and participate in a special AACT Scavenger Hunt, then present your team's findings at one of the workshops
Learn from a panel of experienced AACT theatre professionals
Brainstorm!  Give us your perspective. We want to know how you experience AACT as a Youth Leader and what you envision for future AACT Youth Leadership Conferences
And more...
It's going to be a great conference!  Come join us!
Registration for the conference is only $35. Since the 2020 AACT Youth Arts Leader Conference is an add-on event of aactWORLDFEST, youth will also need to register for aactWORLDFEST to attend the shows and workshops. Student discounts are offered for each of the three festival packages. To see full list of aactWORLDFEST festival packages and rates, visit venicetheatre.org/international/