Plan now for YouthFest 2023 in Louisville, Kentucky!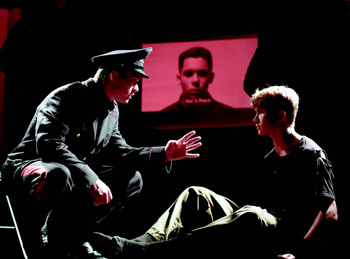 In tandem with AACTFest 2023, AACT will once again be presenting a Youth Festival. 
Five youth theatre companies will be selected to perform at AACTFest 2023, June 12-17, 2023 in Louisville, Kentucky. Youth groups from around the country will perform and be adjudicated in an open forum that fosters a learning and educational experience for all. The festival week will also be filled with workshops, activities, and social events.
Thanks to the generous support of the Jack K. Ayre and Frank Ayre Lee Foundation, performing groups may apply for travel and housing funding. Funding awarded based on need and scale.
Photo: Workshop Theatre from Willis, Texas, production of 1984, at AACT YouthFest 2019 in Gettysburg, Pennsylvania. (Photo by Paola Nogueras)

YouthFest 2023 is made possible by is made possible in part by a grant from the Jack K. Ayre and Frank Ayre Lee Theatre Foundation.
---
AACT Youth Theatre Conference 2023

The AACT Youth Theatre Conference 2023 will take place in conjunction with AACTFest 2023 and AACT YouthFest 2023 in Louisville, Kentucky. The focus will be on cultivating youth who aspire to be leaders within the art community and providing advanced training in the theatre arts. Participants will be exposed to a line-up of powerful theatre performances from around the country, engage in educational workshops, receive mentoring and shadowing from arts professionals, and take part in activities that are challenging and fun!
The conference is open to ages 12-18. Upon registering, participants will receive a survey to help us cater their individual schedule to their interests.
Be on the lookout for more information!
---