Six decades of serving community theatre across the U.S.
Origins

The American Association of Community Theatre (AACT) has its roots in the National Association of Community Theatre (NACT), an organization founded in the 1950s.  (Click here for article on the history of community theatre in the U.S.)
In 1958 the American Community Theatre Association (ACTA) was founded and later became a division of the American Theatre Association (ATA).
Beginnings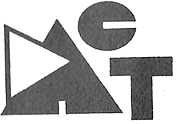 In February 1986 ACTA disassociated from ATA to become AACT, an independently incorporated organization. AACT, founded by nine past presidents of ACTA, adopted all past officers, award recipients, festival activities, and other aspects of ACTA and NACT as part of its history. Within a year of its founding, AACT had 380 members, a mailing list, newsletter, membership directory, and more, thanks to President Bea Miller and dedicated board members and past presidents all over the country. 
The Festival Story

Festivals of American Community Theatre (FACT) started in 1969 as a way to select a show for the World Festival in Monaco, and AACT has continued to arrange for participants in international festivals all over the globe.  [See Birth of AACTFest]
In 1988 AACT began a tradition of also meeting for a national event in even-numbered years.   That year Jim Carver, then President of AACT, and the Kalamazoo (MI) Civic Players hosted AACT at its first national convention.  In 1990 John Viars and the Des Moines (IA) Playhouse was host to AACT's first international festival.  The AACT national convention moved to New York City in 1992 and again in 1996, chaired both times by JoAnne Nissen.  Racine (WI) Theatre Guild with chair Norm McPhee hosted AACT's second international festival in 1994 and in 1998 a third international festival was held in Benton Harbor, MI chaired by Larry Nielsen and Twin City Players.  A third NYC convention was held in 2000. Since then, the national festival, international festival, and national convention (renamed the New York Adventure) have continued on a regular basis.  [See PDF document "AACTFest History"]
A National Office

When John Viars became president in 1991, he saw a great need for a national office to be a home base for AACT communications and a staff to handle the growing load of membership records and mailings.  The Des Moines Playhouse contributed office space, a computer was purchased, and a part time executive secretary hired.  The office remained in Des Moines until 1994 when Julie Crawford became AACT's first executive director, and the office moved to College Station, TX.
AACT launched its website in 1996.  In 1997 AACT's membership first exceeded 1000 and a tenth region - for overseas military members - was created.  Also in 1997 the AACT Board decided to pull AACT's growing educational programs together and added a vice president for education.
Developments Since 2000

In 2000, the board entered into long-range planning, with an emphasis on providing benefits and services at a national level, including education, training in fundraising and board operation, and improved relationships with publishers and royalty houses.
The national office moved to its current location in Forth Worth, TX, and in 2009, AACT began a major branding and marketing effort, in order to clarify its role as America's national community theatre organization, offering a wide range of expertise, assistance, networking and support so that theatres can provide the best possible experience for participants and audiences alike. After much discussion, and work with a consulting firm, a new logo and tagline ("Improving communities one theatre at a time") were developed, and work began on achieving the goals of the new branding and marketing plan.
In recent years, many new initiatives have been introduced, including a program to develop and produce new works (AACT NewPlayFest).  In 2014, the organization announced it would take on the role of AACTFest  producer, allowing host companies to focus on what they do best—hosting the multi-day event, providing logistical and technical support to participating companies, and ensuring that attendees enjoy themselves thoroughly.  In 2015, AACT launched its new website, as well as hosting AACTFest 2015.
AACT Presidents


Prior to 1986, the community theatre association was known as the American Community Theatre Association (ACTA), a division of the American Theatre Association. In 1986 ACTA incorporated as the American Association of Community Theatre (AACT). AACT includes all past presidents and awards of ACTA as an integral part of its history.

1987-89     James Carver (Kalamazoo, MI)
1989-91     L. Ross Rowland* (Muncie, IN)
1991-93     John Viars (Des Moines, IA)
1993-95     Ginny Winsor (Omaha, NE)
1995-97     Ron Ziegler (Des Moines, IA)
1997-99     Jon Kerkhoff (Omaha, NE)
1999-01     Jack Phillips (Spokane, WA)
2001-03     Jill Patchin (Grand Rapids, MI)
2003-05     John Sullivan (Sioux City, IA)
2005-07     Mary Britt* (Ocala, FL)
2007-09     Bill Muchow* (Minneapolis, MN)
2009-11     Rod McCullough* (Des Moines, IA)
2011-13     Linda M. Lee (Fort Worth, TX)
2013-15     Gary Walker (Grand Rapids, MI)
2015-17     Murray Chase (Venice, FL)
2017-19     Carole Ries (Topeka, KS)
2019-21     Rick Kerby (Sarasota, FL)
2021-22     Chris Serface (Tacoma, WA)
2022-         Kristi Quinn (Dakota City, NE)

(ACTA/AACT)    
1985-87     Bea Miller* (Memphis, TN)

(ACTA)    
1958-61     Dorm Richardson* (Columbus, OH)
1961-62     Robert Telford (Tulsa, OK)
1962-65     Howard Orms* (Springfield, MO)
1965-68     David Bryant* (Sheyboygan, WI)
1968-70     Art Cole* (Midland, TX)
1970-71     Fritz Congden* (Omaha, NE)
1971-73     Kay Fliehr* (Edina, MN)
1973-74     John Wilson* (Lincoln, NE)
1974-75     Jeanne Adams Wray* (Stillwater, OK)
1975-76     David Young (Washington, DC)
1976-77     David Gooder* (Downers Grove, IL)
1977-78     Charles Stilwill (Waterloo, IA)
1978-79     Virginia Kirshner* (Concord, MA)
1979-80     Richard Fliehr* (Edina, MN)    
1980-81     Alfred Rickert* (Oswego, NY)
1981-82     Mort Clark* (North White Plains, NY)
1982-83     Shirley Harbin* (Detroit, MI)
1983-84     Betty Tomlinson* (Spokane, WA)
1984-85     Twink Lynch* (Topeka, KS)

* deceased