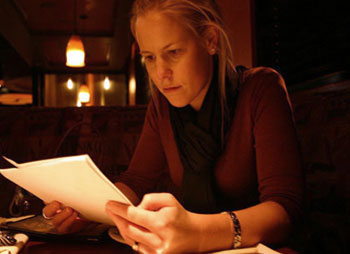 Playwrights create scripts. Like other literary artists, playwrights tell stories through the words and actions of characters. While the work of the playwright can stand on its own as literature, its potential is fully realized only when the skills of all the other theatre artists combine to transform the script into a production of a play.
A playwright's tool kit needs to contain:
a vivid imagination
a gripping story to tell
insight into what makes people tick
a good ear for capturing the way people really speak
working knowledge of the elements of dramatic structure
an understanding of theatre's non-verbal means of expression—sound, movement, setting, costume, lighting, music, pacing and stage picture.
While most playwrights, like most writers, work alone, sometimes they share the task of script creation with actors and directors in a process known as collective creation. Here everyone takes a hand in researching the story idea and developing the script. But because the skillful ordering and re-creation of events is central to the playwright's art, the final task of shaping the raw material into a coherent and effective script will normally fall to the playwright.
Playwrights may also develop a new script with feedback and guidance from a dramaturg. A dramaturg is the theatre professional primarily responsible for managing the literary aspects of a play's production. A dramaturg's feedback on a new script may be given at any point in the process, from the first draft all the way through to first rehearsals, depending on the individual situation. A new script can often be strengthened by the kind of feedback the playwright receives through a workshop process. Usually organized by a dramaturg, this process often involves a reading and/or scene study of the script by professional actors and a director.
This website has a regularly updated list of play contests and other opportunities for playwrights.
Finally, it's a good idea to be familiar with the roles and responsibilities of the other key players in mounting a production.
---
More Resources at Your Fingertips

AACT members have access to our Resource Library covering all aspects of theatre, plus member networking, discounts on theatrical products & services and on AACT festivals and conferences.