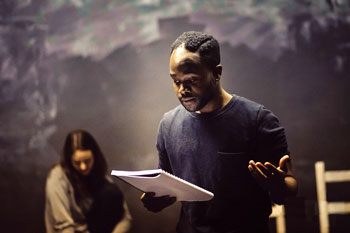 Because good actors make it look so effortless, it's easy to forget just how much hard work acting really is. But the polished and natural feel of an actor's performance often represents years of training and onstage experience.
An actor's performance is enhanced by:

an ability to put personal skills like imagination, emotional honesty and empathy at the service of a creative process
an ability to focus and listen
vocal training for greater power, expressiveness and clarity
physical training stressing general fitness, flexibility and grace
insight into the psychology of human behavior
a ready understanding of and love for language
high-level reading, research and text-analysis skills
Other performance skills an actor develops can increase the range of roles for which he or she may be considered. These include singing, dancing and playing a musical instrument; fencing/stage combat and physical theatre skills; circus skills like clowning, acrobatics and juggling; commedia dell' arte and mask techniques; and training in improvisation.
Theatre training is available through college, university, conservatory, and studio programs. Conservatories typically offer intensive training over several years. Colleges and universities offer programs varying from less to more intensive, depending upon other courses required to complete a degree. Studios offer ongoing courses that may be short or long term, and participants opt in or out depending on their needs.
While there is no agreement on the one right way to train actors, many working in theatre today have been exposed to the great Russian director Konstantin Stanislavski (1863-1938) and his ideas about how to build a character. Many actor-training programs are still founded on his basic theories, which in the U.S. led to the development of what's called "the method."
While not all actors, directors, or teachers subscribe to Stanislavski's ideas, many are useful to consider:
Given circumstances—all the facts in the script that are not open to interpretation such as plot, historical period, the basic personalities of the characters and the social conditions in which they live.
The "magic if"—a way an actor can stimulate his or her imagination by asking "How would I behave if I really was this character in this situation?"
Motivation—the underlying reason for a character's behavior
Subtext —the deeper meaning in the spoken lines that reflects the inner life of the character.
Objective—the goal towards which a character is working in a scene; the specific outcome of an event the character would like to see.
Obstacle—something that stands in the way of a character's achieving his or her objective.
Concentration—an actor's ability to focus his or her attention completely.
Are you interested in acting? You can start now on what could be a life-long journey.

Go and see as many plays as you can
Check out the theatre arts/drama class or your school drama club
If you're in school, join the school improvisation team
Audition for a local community theatre
Volunteer to do backstage work for a local community theatre and observe rehearsals when possible
Check the yellow pages for theatre/drama classes. Many theatres, both professional and amateur, offer acting courses
Check our list of theatre-related sites
Read plays!
It's also a good idea to familiarize yourself with the roles of all the other people you'll be working with, or whose work affects your own (see menu, above right).  In addition, members of AACT can read more on this subject in our library of articles.
---
More Resources at Your Fingertips

AACT members have access to our Resource Library covering all aspects of theatre, plus member networking, discounts on theatrical products & services and on AACT festivals and conferences.