Unlock your theatre's potential—and yours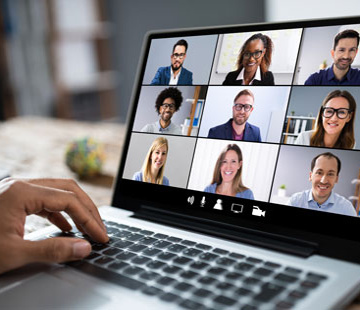 AACT offers a newly curated collection of virtual educational programs focusing on directing, design/tech, dramaturgy, education & youth programming, management, marketing & community outreach, and more.
Each program in our AACT Webinars offers a unique format, but all are designed to benefit theatre organizations and individuals, regardless of location or budget size:
Interested in being part of a Roundtable panel or teaching a Virtual Masterclass? Have questions about any of our AACT Webinars? Contact AACT Education Coordinator David A.VanCleave.
---
Upcoming Presentations


All events begin at 2:00 pm (Eastern) / 1:00 pm (Central) / 12:00 pm (Mountain) / 11:00 am (Pacific).

---

October 6: Virtual Masterclass
Making Something Out of Nothing: Big Designs/Tiny Budgets
In a perfect world, a designer's budget would be as grand as their vision. Luckily, a production's quality is not directly proportional to its budget size. Learn creative strategies for delivering show-stopping designs on any budget.
Presenter Susanna Douthit has designed costumes, props, and sets on budgets of all sizes. She has designed costumes for Olympic figure skating champion Brian Boitano, Ballet Nacional del Perú, the world premiere of Our Town the Opera, and countless community theatres and drag queens.

---

October 12: Industry Connections
Broadway Media
A presentation by Founder Quentin Sanford
Broadway Media develops easy-to-use technological resources, protect and license the intellectual property of performing arts' leading designers, and provide useful hardware solutions tailored to the simple implementation of modern technologies in educational, amateur and professional theatrical organizations. Its products are the official resources for MTI and TRW titles, including: Scenic Projections (script-accurate digital scenery) and Choreography Guides. The presentation will review these resources and how they can benefit community theaters.

---

October 18: Roundtable
Season Selection
Choosing the right productions for your theatre is a never-ending process. Learn strategies to plan the perfect, well-rounded season to engage your audience.

>> More Information & Registration
     (You must be signed in to view)

---

November 3: Script Club
The SpongeBob Musical
Based on the series by Stephen Hillenburg, Book by Kyle Jarrow, Musical Production Conceived by Tina Landau

With strong title recognition, a successful Broadway run, and a hit score featuring songs from  Aerosmith, Sara Bareilles, David Bowie, Cyndi Lauper, John Legend, Panic! At the Disco and many more, it's easy to see why so many community theatres are eagerly producing the Nickelodeon blockbuster.  Brainstorm with other organizations and artists on all the creative opportunities and challenges you'll face on your way to Bikini Bottom.

---

November 9: Industry Connections
InstantEncore
Introducing InsideGuide - The only digital program book you'll ever need
A presentation by David Dombrosky, Chief Marketing Officer, InstantEncore
Over the past two years, arts organizations have examined every aspect of their operations for new ways forward - from providing safer experiences to generating revenue and reducing expenses. This has led to a growing shift from printed programs to digital program books. Join this presentation for a closer look.

---

November 15: Roundtable
Board Development
Enhance your board's effectiveness by clarifying and developing roles & responsibilities, policies, recruitment strategies, and more. Top tools for governing, advisory, fundraising, and working boards.

>> More Information & Registration
     (You must be signed in to view)

---

December 1: Virtual Masterclass
Finders Keepers: Volunteer Recruitment, Retention, and Recognition
Discover how to identify new volunteers and keep them coming back with practical volunteer management strategies.
Presenter MaryJo DeNolf spent 22 years as the Director of Operations & Volunteers at Grand Rapids Civic Theatre, where she also worked as stage manager and props designer. She was the production manager for AACTFest in 2017, 2019, and 2021, and is currently AACT's Festivals & Engagement Coordinator.

 

---