The role of the fight director [also known as fight choreographer] is to map out and oversee staged combat in a play or other performance. They are experts in making fighting look realistic while keeping it safe for the actors and other participants. As a result, they work with the production's director to ensure the best possible look to anything from a fistfight to a gun battle.
Fight directors choreograph and direct all stage combat in a production. According to The Society of American Fight Directors (SAFD), "Stage combat is a broad term that covers acts of conflict, danger and/or violence performed for entertainment. A slap to the face, a fall down some stairs, an epic fifteen-person battle with swords and axes – all of these are stage combat."
Typical Responsibilities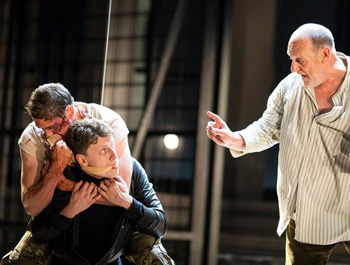 Much like dance choreographers, fight choreographers instruct actors on how to move in various ways, in order to make fight scenes appear realistic and/or historically accurate, while also ensuring the safety of the cast and crew. While working knowledge of various fighting styles is necessary for this work, fight choreographers must also understand theatrical staging and the principles of choreography.
According to the Roundabout Theatre Company, "Fight directors work closely with the director to choreograph a sequence that tells the right story and teach the actors as they learn to execute that sequence. Imagine a scene in which the protagonist is initially caught off-guard by the villain but discovers her strength and by the end has defeated her attacker. Each movement by the actors within the stage fight should support that narrative. Additionally, fight directors must take into account the historical or social context in which the combat is occurring. What weapons would the characters have had access to? What were their cultural norms around fighting – for example, did they require a fair start, or could one sneak up on the other?"
Besides being physically fit, a fight choreographer should be aware of the intricate movements of the human body, and have some skills in martial arts or gymnastics.  They must be able to plan out both large and small fight and stunt sequences. They also need the skill to organize the stunt crew, paperwork, and plans for each scene.  [Photo courtesy of the Royal Shakespeare Company]
>> For more information, visit the website of the Society of American Fight Directors.