Mort Clark International Achievement
Recognizes significant achievement in the promotion of excellence in international community theatre
(This award may be presented at an international event)
2022 Honoree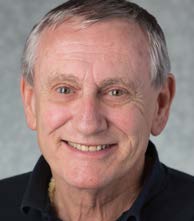 Dr. Roger Ellis (Grand Rapids, Michigan) earned a Master's degree in Drama and a Doctorate in Theatre from the University of California, Berkeley. He founded the Cultural Diversity Program in theatre at Michigan's Grand Valley State University in 1991, and led students on four study-abroad experiences as director of the School of Communications' International Conference on theatre great Augusto Boal, presenting performance workshops in movement and acting in Germany, Greece, France, the Caribbean, Switzerland and Canada. He has served as State President of the Theatre Alliance of Michigan, and as Vice-President for World Theatre for the International Amateur Theatre Association (IATA). He has been the U.S. representative of amateur theatre at international conferences in seven countries and was Chair of IATA's Artistic Development Committee. A current member of AACT's International Committee, Roger says "I truly believe now that in our troubled world today, those of us in amateur theatre worldwide contribute mightily to the future of decent people and hopeful societies worldwide."
---
Previous Recipients

2021  Annette Procunier (Ontario, Canada)
2020  Tim Jebsen (Midland, Texas)
2019  Murray and Lori Chase (Venice, Florida)
2018  Frank Peot (Sun Prairie, Wisconsin)
2017  Brid McBride* (Dundalk, Ireland)
2016  Eva Moore (Ontario, Canada)
2014  Kathie Maldonado (Alto, NM)
2013  L. Ross Rowland* (Muncie, IN)
2013  John Viars & Des Moines Playhouse (Des Moines, IA)
2009  Jim Sohre (Army Europe Command Entertainment)  
2008  The Cellario Family (Monaco)
2007  Hiroshi Koizumi (Japan)
          * Deceased
---

Mort Clark

This award is named in honor of Mort Clark, who began a 30-year career teaching Theatre and Speech at Westchester Community College in 1966. He served as department chair for a number of years and was instrumental in the design of the new theater in the Academic Arts Building. But he is perhaps best remembered for establishing an annual International Theatre Festival, which brought community theatre groups from all over the world to the Valhalla campus for a week of non-stop dramatic performances.
He served as president of the American Community Theatre Association (AACT's predecessor) and later served many years on the AACT Board as the Region II Rep. He was always there to greet new board members and make them feel welcome. He was honored by AACT with the David C. Bryant Outstanding Service Award, the Art Cole Award, and designation as an AACT Fellow. He adjudicated festivals throughout the country.
His passion for community theatre took him all over the world and earned him scores of awards, honorary titles and degrees too numerous to mention.  He was a familiar presence at AACT meetings, festivals and conventions for many years. In 1993 Mort traveled to Monaco to be knighted by Princess Caroline on behalf of her father, prince Rainier. He was awarded the Chevalier Medal of Culture at Monaco's Princess Grace Theatre, and was thereafter entitled to be addressed as "Sir Mortimer"--an honor that delighted him thoroughly. Mort retired from Westchester Community College in 1997, and that year he made over 40 trips to teach and work with theatre groups around the world. He continued to travel and work until his death in 2007 at age 78.