The Intimacy Director's Job
Intimacy on stage typically involves a type of sexual scene, but it could also include a scene of someone giving birth, or a scene that involves non-sexual nudity, such as the final moments of Wit. According to the IDC (Intimacy Directors and Coordinators), "An intimacy director or coordinator is a choreographer, an advocate for actors, and a liaison between actors and production for scenes that involve nudity / hyper-exposed work, simulated sex acts, and/or intimate physical contact. "
Typical Responsibilities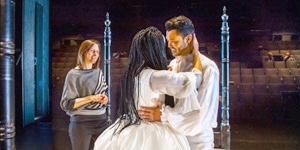 As with fight direction, intimacy direction begins with understanding the demands of the script and the director's vision. Intimacy coordination or direction involves working with the entire team to develop a culture of consent in the production and assessing each actor's level of comfort with different possibilities of a scene prior to exploring, then meticulously choreographing, each movement, and ensuring that it is repeated exactly as planned throughout the run of the show.
Working in this way protects actors from feeling pressured to do things they aren't comfortable with and helps prevent any blurring of lines between real life and acting. Additionally, the person in charge of intimacy direction or coordination may collaborate with the costume designer on specific modesty garments or barriers needed for such scenes.
Because the need for an intimacy director varies greatly, depending on the production and demands of the script, the work demands a full understanding of the options available, but how best to shape them for a particular production, and how to best communicate and work with a particular group of performers.
>> For more insights into the work of an Intimacy director, visit the website of the Intimacy Directors and Coordinators organization.