Serving community theatre in the U.S. and U.S. Military Overseas
Structure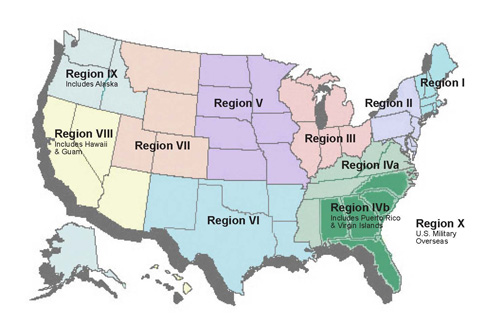 The membership of the American Association of Community Theatre (AACT) consists of organizations and individuals from 11 Regions (see map). Each Region has a Regional Representative who serves on the AACT Board.
Region I:  Connecticut, Maine, Massachusetts, New Hampshire, Rhode Island, Vermont
Region II:  Delaware, District of Columbia, Maryland, New Jersey, New York, Pennsylvania
Region III:  Illinois, Indiana, Michigan, Ohio, Wisconsin
Region IV a:  Mississippi, Tennessee, Kentucky, West Virginia, Virginia
Region IV b:  North Carolina, South Carolina, Georgia, Alabama, Florida, Puerto Rico, Virgin Islands
Region V:  Iowa, Kansas, Minnesota, Missouri, Nebraska, North Dakota, South Dakota
Region VI:  Arkansas, Louisiana, New Mexico, Oklahoma, Texas
Region VII:  Colorado, Montana, Utah, Wyoming
Region VIII:  Arizona, California, Hawaii, Nevada, Guam 
Region IX:  Alaska, Idaho, Oregon, Washington
Region X:  US Military Overseas
 
Governance & Leadership

A nonprofit national organization, AACT is governed by an elected board, composed of 30 voting members:  8 elected Officers of AACT, 12 elected Members at Large, and 10 Regional Representatives. Each member of the Board is also an individual member of AACT.
In addition, an Executive Director and staff help manage the organization.  The national office address, telephone & email information can be found at the bottom of this screen).
 
More information