Entertaining, informative, indispensable—Spotlight!
Spotlight is the official publication of the American Association of Community Theatre, mailed to organizational & individual members, and also available to members and non-members for viewing online. 
How to advertise in Spotlight  |  How to submit an article for Spotlight  
---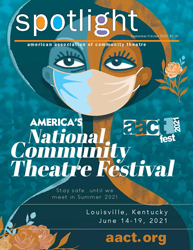 CONTENTS: Theatre Tulsa Takes the Reins; Grand Rapids Civic Theatre Driveway Cabaret; AACTFest 2021 in Louisville; AACT NewPlayFest 2022 Producing Theatres; Join or Renew Your AACT Membership; AACT Legacy Society.
Note:  The flip-page version (provided via Yumpu) may require the Flash plug-in on your device (if you don't have it, you can download it free from Adobe).  The issue is also available as a standard PDF file in our archive (below).
>> View/download issues of Spotlight in PDF (Adobe Acrobat) format, from current issue back to 2013.
---