Spotlight: AACT's Member Magazine
Informative, insightful, indispensable
---
Spotlight is the official publication of the American Association of Community Theatre, mailed to organizational & individual members, and also available to members and non-members for viewing online.
How to advertise in Spotlight  |  How to write an article for Spotlight
---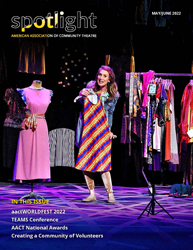 May-June Contents: CTMC 2022, Take the Plunge; TEAMS Conference 2022; AACT NewPlayFest World Premieres; AACT National Awards; Creating a Community of Volunteers; Join AACT Now.
Spotlight will display two pages at once; use slider bar at bottom right to zoom in; tap ESC on keyboard to exit the online issue. On a smart phone, use fingers to expand/contract the image.
Note:  If, for any reason, you are not able to view the flip-page version of Spotlight, linked above, the issue is also available as a standard PDF file in our archive (below).
>> View/download issues of Spotlight in PDF (Adobe Acrobat) format, from current issue back to 2013.
---