Recognizes an individual AACT Member with significant leadership & service on a national level
The AACT Shining Star award recognizes an individual AACT Member who has had a significant impact on the advancement of AACT and its mission through leadership and service on a national level. This new award is open to all ages and years of service, and will complement AACT's growing national outreach to younger participants, and provides a way of encouraging and recognizing the service of those who may not yet qualify for any of AACT's  more long-term awards.
---
2023 Honoree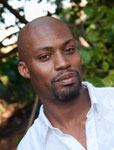 Kristofer Geddie (Venice, Florida) is Venice Theatre's Director of Diversity and General Manager. He holds a B.F.A. in Musical Theatre, an M.A. in Arts Administration, and has been seen numerous times performing on stages around the world. In addition to Kris' duties at Venice Theatre, he serves on the Ambassador Circle for Embracing our Differences, the EDIA+ committee for Southeastern Theatre Conference, is the treasurer of the Florida Theatre Conference, and as a Board Member of the Friends of the Venice Public Library, Suncoast Black Arts Collaborative, and AACT. He has been instrumental in advancing the mission of AACT through his dedication and service on the board, in his home theatre, and through his tireless advocation for diversity, equity, and inclusion. When AACT found itself in the middle of a global pandemic and social justice movement in the spring of 2020, Kris was frequently the person it turned to in order to help guide the conversation.
---
Previous Honorees

2021   Seth Sponhouse (Williamsport, Pennsylvania)
2021   Lou Ursone (Stamford, Connecticut)
2020   Chad-Alan Carr (Gettysburg, Penn­sylvania)
2019   Chris Serface (Tacoma, Washington)
2018   Nancy Eppert (Independence, Missouri)
           Sara Phoenix (Tulsa, Oklahoma)
           Kristi Quinn, (Dakota City, Nebraska)