Recognizes an individual AACT Member with significant leadership & service on a national level
The AACT Shining Star award recognizes an individual AACT Member who has had a significant impact on the advancement of AACT and its mission through leadership and service on a national level. This new award is open to all ages and years of service, and will complement AACT's growing national outreach to younger participants, and provides a way of encouraging and recognizing the service of those who may not yet qualify for any of AACT's  more long-term awards.
---
2020 Honoree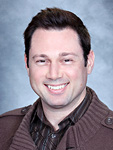 Chad-Alan Carr (Gettysburg, Penn­sylvania) is currently the Founding Executive/Artistic Director for the Gettysburg Community Theatre. He was honored to co-facilitate the first two Youth Summits for AACT, and to chair the first-ever Youth Festival at AACTFest 2017, in Rochester, Minnesota. Chad-Alan has directed the Eastern States Regional Premiere of the Penguin Project (theatre for youth with special needs), chartered the International Thespian Troup #7640 for Gettysburg Area High School, and has served as a board member for the Pennsylvania Association of Community Theatres, Eastern States Theatre Association, and AACT. In the summer of 2019, Chad-Alan and the Gettysburg Community Theatre hosted the National AACTFest, prompting glowing praise for the week-long event.
---
Previous Honorees

2019   Chris Serface (Tacoma, Washington)
2018   Nancy Eppert (Independence, Missouri)
           Sara Phoenix (Tulsa, Oklahoma)
           Kristi Quinn, (Dakota City, Nebraska)