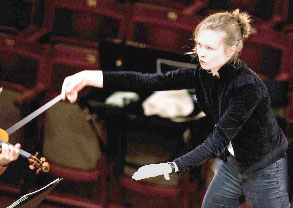 Beyond the expected musical expertise, the music director must have strong communication and organizational skills, and be able to work collaboratively with the show's director, cast and orchestra.
The music director is responsible for working with the stage director in preparing a theatre production for public performance, including casting, rehearsing the vocalists and orchestra, and conducting (and sometimes selecting) the orchestra.
In community theatre, the music director often serves in several capacities--working with singers in partnership with the director, rehearsing the cast and orchestra, and serving as conductor for all performances. However, in some cases (especially with a particularly demanding score), a separate vocal director may be used, as well as an assistant conductor.
It is essential that the production's director and musical director have an ongoing and mutually supportive collaboration. The director communicates his or her vision of the show, and the music director uses his or her understanding of the show's musical demands to help the director (and cast) be successful.  The musical director works with the director in scheduling rehearsals, which cast members need to be there, and what the directors expect to accomplish at each rehearsal.
Typical responsibilities may include:
Auditioning the singers and making casting recommendations to the director
Scheduling music rehearsals in collaboration with the director, choreographer and stage manager
Helping cast members learn their music
Leading music rehearsals for principals, chorus and orchestra
Serving as conductor--or, in consultation with the producer and director, hiring a conductor
In consultation with the producer and director, selecting a rehearsal pianist and orchestra members
Working with the sound designer when microphones will be used
Attending production meetings and rehearsals, as needed
Working with the musicians union, if applicable.
Beyond the expected musical skills, the music director must have strong communication and organizational ability.
For an in-depth look at the role of the music director, we recommend these articles:
---
More Resources at Your Fingertips
AACT members have access to our Resource Library covering all aspects of theatre, plus member networking, discounts on theatrical products & services and on AACT festivals and conferences.