Community Theatre History
History of community theatre in america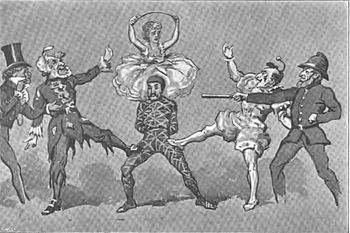 "Community Theatre occupies a peculiarly important position in the American theater picture.... It engages more people in theatrical activity, albeit part-time, than all the rest of the American theatre put together, including schools and colleges."
Theatre in America: Appraisal and Challenge
By Dr. Twink Lynch
The beginnings of community theatre in the U.S. are not well recorded.  No one seems to have been conscious it was a "movement" which needed to be set down for posterity.  We know there were amateur theatricals during the Colonial and Revolutionary War times, and the Mormons founded the Deseret Theatre around 1850.  In 1874, two groups were founded: the Aurora Drama Guild in Illinois and the Concord Players in Massachusetts (by Louisa May Alcott).  In 1877, the Footlight Club was founded in Jamaica Plain, MA and has been declared by AACT to be the oldest continuously producing community theatre in the U.S.
The Name of the Game

Even the name "community theatre" took some time to evolve.  The movement has been called "art theatre," "little theatre," "amateur theatre," even "tributary theatre."  "Community theatre" was coined by Louise Burleigh in 1917.
An identifiable "movement" was definitely underway in the early 1900's.  The European Art Theatre Movement, which is usually credited for having given impetus to the American Little Theatre Movement, had begun prior to the turn of the century with revolutionary changes in theatre technique, playwriting, and acting style.  The size of their performing halls led to the name "little theatre."  The 1911 U.S. tour of the Irish Players seemed to have the greatest impact on us.  According to Robert Gard and Gertrude Burley, they "fired the American imagination;" their tour "aroused the antagonism of American citizens against the feeble productions of the commercial theatre, and seemed to be the catalyst that caused countless dramatic groups to germinate all over America , as a protest against commercial drama." (Community Theatre: Idea and Achievement, 1959).
However, some months before the Irish Players tour, several "definitely conscious little theatres" were begun in Wisconsin and Illinois , devoting themselves to production of native local drama.  As early as 1909, Percy MacKaye wrote of the need for "civic" theatre activity, which he saw as "the conscious awakening of a people to self-government in the activities of its leisure."  (The Civic Theatre, 1912).  And in North Dakota, Alfred Arvold and Frederick Koch were working with "pioneer people" to develop scripts reflecting their life experiences (Kenneth Macgowan, Footlights Across America, 1929).  In Wisconsin a similar thrust into the rural areas was occurring under the leadership of Thomas Dickinson who launched the Wisconsin Dramatic Society  (Thomas Dickinson, The Insurgent Theatre, 1917).  This program eventually evolved into the Wisconsin Idea Theatre under the direction of Robert Gard.
In New York City, several non-commercial groups were founded around 1915: the Provincetown Players (which nurtured Eugene O'Neill), the Washington Square Players (which evolved into the Theatre Guild), and the Neighborhood Playhouse, which is still thriving as a theatre training school today.  It's interesting to note that many of the original community or little theatres, especially those in large metropolitan areas, evolved into professional theatre groups (e.g., the Pasadena Playhouse, the Pittsburg Playhouse, and the Cleveland Playhouse).
The Evanston (Illinois) Drama League was founded in 1910.  Initially their purpose was to study the drama and encourage professional theatre by organizing audiences and studying plays.  When the "Road" collapsed, they developed a new purpose: to encourage theatre production in their own communities.  This had a profound effect on the development of community theatre.
A Shift

After World War I there was a shift of rationale for the Little Theatre movement.  While many of the earlier theatre groups were dedicated to the new European "art" of theatre (producing plays by Ibsen, Maeterlinck and Lord Dunsany), and others were primarily concerned with community stories and civic pride, in 1923 Clarence deGoveia declared that the future of the Little Theatre lay in training and developing the American playwright (The Community Playhouse, 1923).
Over the next two decades, over 100 community theatres were founded.  Some did indeed provide playwrights with opportunities to develop their craft.  Others filled the gap left by the death of "the Road."  Founded primarily by individuals, not groups or clubs, the theatres were representative of all kinds of people, a real-cross section of each community.  In 1939 Albert McCleery and Carl Glick wrote that "Five hundred thousand to a million workers [are involved] in Community Theatres!  And close to fifteen million persons attend their plays!"  (Curtains Going Up!).
The Depression and World War II slowed the development of new theatres (and closed some down), but a burst of new activity occurred after WWII.  In 1959 Gard and Burley estimated there were about 3500 full-scale community theatres in the U.S., producing on a continuing basis.   In 1962 the Stanford Research Institute estimated there were 18,000 groups operating, of which approximately 3000 "are doing drama production at acceptable standards, and [of these] perhaps 200 groups are producing drama at more or less professional standards, occasionally work of very high quality."  In 1975 ACTA/AACT estimated there were 15,000 groups and identified 2600 with names and addresses.  Part of the problem in counting was that community theatres have had, as former ACTA President Jeanne Adams Wray used to say, an unnerving propensity for "multiplying like rabbits and dying off like fruit-flies."  Changeover of volunteer personnel is also an obstacle in maintaining contact.
Importance & Opportunity

Two important ideas emerge during a study of community theatre roots.  The first has to do with the importance of our field.  In 1968 Robert Gard, Martin Balch and Pauline Temkin wrote: "Community Theatre occupies a peculiarly important position in the American theater picture.  It is the largest, by far, of the theater's numerous segments, and has the best chance of reaching the average citizen and family.  In the bigger cities its clientele is the neighborhood; in smaller ones, a fair cross section of the stable, educated population; and to countless localities not served by the professional or the educational theater, it offers the only opportunity to see live drama….It engages more people in theatrical activity, albeit part-time, than all the rest of the American theatre put together, including schools and colleges."   (Theatre in America: Appraisal and Challenge, 1968).
The second important idea is that this incredible opportunity to impact our communities brings a responsibility with it.  It is apparent from reading the literature that theatre professionals have been holding community theatres accountable to the ideal of theatre as an art form and not just a form of recreation and social intercourse.  Gard, Balch and Temkin felt the Community Theatre Movement was adrift in 1968.  Not only had most community theatres seemed to have abandoned "theatre as art," but now they were seeming to revel in theatre as "diversion," a social gathering place, a place to have "fun."  The authors were concerned about community theatres operating so independently and in such grand isolation from each other.  They deplored the lack of a national organization, such as the Drama League had been, to guide, teach, and challenge community theatres to do their best to grow in skill and creativity.
Enter ACTA, then AACT whose mission is to foster and encourage the development of, and commitment to, the highest standards by community theatres through the U.S., including standards of excellence for production, management, governance, community relations and service.  Through newsletters, workshops, professional conferences, and its acclaimed Festival of American Community Theatre – and now through electronic networking and communication – AACT has had a profound influence on community theatre as art for more than 30 years. 
Have the professional theatre people noticed?  I'm not sure it matters.  Near as I can tell, we've improved our work because we chose to, because we realized we could be better and set our goals accordingly.   And who says producing art can't be fun?
---
Twink Lynch devoted her life to community theatre and to serving as a mentor to both individuals and community theatres across the country. She helped shepherd the national organization's transition from American Community Theatre Association (ACTA) to AACT, served on the Board for six years, including a term as President and VP of Education and on AACT committees for an additional 19 years. Twink managed Topeka (KS) Civic Theatre for many years, retired, then came back during hard times and guided the theatre back to a stable organization. Her passion was such that she earned three degrees in theatre; it is said, she is the only person to earn a Ph.D. in Community Theatre Management. Twink shared her knowledge and experience through consulting and through her "Spotlight on Boards" column in AACT's newsletter, which she wrote for 14 years. In 2000, she edited her columns into a book, Boards in the Spotlight, the proceeds of which benefit AACT.