Chief Administrative Officer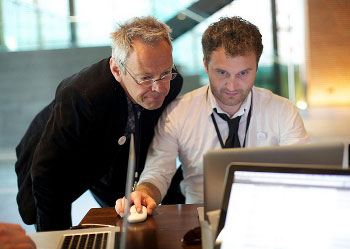 Whether the title is Executive Director, Managing Director, President, or CEO, the chief administrative officer of a theatre company is the guiding force of the organization.
The chief administrative officer for a theatre company may have any one of many titles, and duties will vary, depending on the size of the company, and whether the artistic direction of the company is handled by a separate position. [See Artistic Director job description]
Major areas of responsibility typically include:

Coordination of long-range and annual planning in collaboration with the Artistic Director [if there is one] and the Board of Directors.
Providing leadership for and actively participating in fundraising activities, donor development, grant seeking and grant reporting.
Developing the annual budget, including providing monthly financial reporting and forecasting, cash flow management, capital spending and expenditures review and approval.
Supervising the administrative staff and directing administrative operations.
Managing the operation and maintenance of the theatre's physical plant.
Administering and supporting, in conjunction with the Artistic Director and the Education Director [if these positions exist], all educational programs of the theatre.
Acting as the representative and advocate of the theatre with government agencies, insurance companies, community and local business groups and arts organizations. 
Someone in this position would be expected to:

Possess experience in a non-profit arts management/leadership position, with demonstrated experience in fund-raising, grant writing and marketing;
Possess strong budgeting and financial management skills;
Demonstrate capacity to lead, manage, motivate and inspire the theatre's team.
Have experience in marketing, advertising and public relations activities, including driving growth in ticket sales and associated revenues;
Exhibit excellent interpersonal leadership, and communications (both written and oral) skills;
Demonstrate a strong work ethic, stamina and passion. 
Some companies combine the responsibilities of the Artistic Director with the Managing Director of Chief Executive Officer of the company.