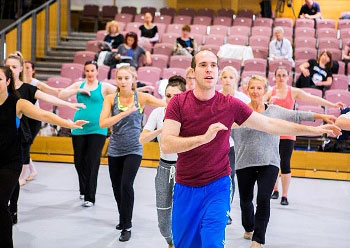 A Choreographer designs and directs the dance or stylized movement in musical productions, working closely with the director and musical director.
A choreographer works with dancers to interpret and develop ideas and transform them into the finished performance. This might mean taking overall control of a production, or working under the director of an opera, play or musical. 
When working with a director, the choreographer must gain a full understanding of the director's vision of the show, including style and pacing, and must be familiar with the script and music. An effective choreographer is one who supports the director's vision, so that all elements of movement and dance work as part of the larger picture.  Some directors will give their choreographers a great deal of freedom for their work, but even so, the result must be part of an organic whole, supporting the story, characters, and the overall artistic intent.
As part of the production's support team, the choreographer must work closely with the musical director (and accompanist), costume designer, set designer and lighting designer, to make sure that all stage movement is compatible with musical cues, costuming , sets and lighting.
Choreographers in community theatre must often work with non-dancers, or dancers with limited experience, as well as those who have had considerable training.  This can mean extra rehearsal time, which must be planned for.  Many choreographers use team captains or assistants to work with individuals or groups within the ensemble, as a way of maximizing the amount of time available for rehearsal.
Almost all choreographers begin their careers as dancers and usually start choreographing while still performing, especially in smaller companies. Choreographers frequently absorb artistic influences from other art forms, such as theatre, the visual arts and architecture.
Typical Responsibilities
Creates original choreography, teaches and notates dance steps and formations, cleans dance combinations, teaches techniques and dance steps, and may run fitness conditioning warm-ups with actors
Works collaboratively with the Director and Designers to fulfill the vision or concept of the production
Works with Director and Music Director to integrate choreography into the production
Empowers and motivates participants to perform to the best of their capabilities
Assists Director, Music Director, and Stage manager in creating weekly schedule. Assists with flow of communication to cast and crew.
Attend all scheduled rehearsals
Attend all production meetings
Attend strike, if requested.
---
More Resources at Your Fingertips

AACT members have access to our Resource Library covering all aspects of theatre, plus member networking, discounts on theatrical products & services and on AACT festivals and conferences.