Board Member Elections for 2023
>> Link to Election Ballot Page [Open May 15-May 22, 2023 - Board only]
Board Member-at-Large Nominations

The AACT Nominating Committee puts into nomination for Board Member-at-Large the individuals listed below. Board Members will vote for five candidates.
Emily Anderson (Region 3)
Midland, Michigan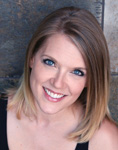 Emily currently serves as the Nominations Chair for AACT Board of Directors. She has performed, directed, and worked backstage for over 50 productions at Midland Center for the Arts and Chicago's 611 Theatre Company. No stranger to the world of AACTFest, she's performed in national award-winning productions of Urinetown the Musical (as Little Sally) in 2011, and Venus in Fur (as Vanda Jordan) in 2017. She loves adjudicating for young artists, having done so for high school one-act productions and forensics at district, regional, and state levels. Emily will serve as an Adjudicator for the 2023 AACT Youth Festival in Louisville, Kentucky. Emily works in marketing and recruitment for the Department of Theatre and Dance at Central Michigan
University. When not at the theatre, she loves spending time with her fily, traveling, and rooting for the Green Bay Packers.
Why is AACT important to the vitality of community theatre?
Community theatre is its own unique art form, and it comes with its own unique set of challenges. AACT provides a network of community theatre professionals to help theatres all over the country overcome these challenges so they can continue their mission. In addition to providing one on one support, AACT helps community theatre thrive on a national level, with education efforts, advocacy, and festivals.
What value will you bring to the AACT Board?
I believe in the future of AACT, and think my greatest strength is helping to envision the path toward that future as well as gathering the right team of people to make it a reality. I am especially passionate about connecting theatre artists through the festival cycle and the educational opportunities that AACT offers.
---
Allen Ebert (Region 3)
Madison, Wisconsin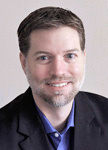 Allen currently serves as AACT Education Chair on the AACT board. He is proud to be a veteran of the United States Army. He credits Army Community Theatre for providing soldiers and family members an opportunity to participate in and experience theatre. It is where he learned many skills and formed lifelong relationships. It was this experience that put him on the path to become a theater art professional. He graduated with a degree in Theater and Drama from the University of Wisconsin Madison. Currently Allen is the Executive Director at the Children's Theater of Madison (CTM). CTM is a member of Theatre for Young Audiences/USA known as TYA/USA and a resident company of the Overture Center for Performing Arts. Allen also directs and performs in the Madison area. Previously, Allen was the Executive Director of the award winning La Crosse Community Theatre and spent three years in Vicenza, Italy where he served as the Entertainment Director of Soldiers' Theatre, an Army Community Theatre. Allen served on the Wisconsin Association of Community Theatre board of directors and is a past president. Over the past 23 years Allen has directed, performed, adjudicated and conducted workshops at state, regional and national community theatres.
Why is AACT important to the vitality of community theatre?
AACT is integral to the promotion, advocacy and advancement of amateur theater.  Community theaters and the people involved on all levels help to build community through stories and art.  AACT is a resource to help theaters at all levels thrive.
What value will you bring to the AACT Board?
I am where I am today because of community theater.  I have learned and honed my skills and craft by being involved with community theater at all levels.  Having been in the industry for over 28 years I bring a passion and perspective to share while still learning from so many amazing practitioners.  I have made many mistakes but through those beautiful oops I have gained knowledge and understanding that I can share to maybe help others.
---
Grayson Hart (Region 4)
Jackson, Tennessee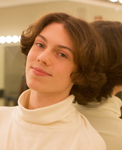 Grayson has been directing and choreographing for youth theatre since his sophomore year in high school. In 2021 Grayson opened Lights Up! Theatre Company, a community theatre geared toward youth ages. In the summer of 2022 he transitioned to The Ned R. McWherter West Tennessee Cultural Arts Center in Jackson Tennessee, nicknamed The Ned, as the director of The Ned's Children and Teen Theatre. Grayson was the recipient of the 2018 Bravo Award from The Orpheum High School Musical Theatre Awards and The Youth Award from The West Tennessee Healthcare Foundation for his service to the community. Grayson is passionate about making theatre accessible to everyone and letting the art of storytelling change lives.
Why is AACT important to the vitality of community theatre?
AACT is important to the vitality of community theatre, because it actively serves everyone with resources and helpful connections with large and small community theatres and their leaders. The strength of AACT is important to so many community theaters all over the country and many would be lost, or worst, stagnant without it. AACT serves as a backbone and support system that continually educates and gives growing resources that affectively evoke positive change within the community theatre realm.
 
What value will you bring to the AACT Board?
I believe that I will bring a young community theatre set of eyes and ears to the AACT board. I am passionate about making theatre accessible to everyone and helping community theatres in whatever way I can. I love serving others, especially my fellow theatre friends. Community theatre is so deeply important to me, and I would love to serve an organization that has helped our local theatres here at home.
---
Gai Laing Jones (Region 8)
Ojai, California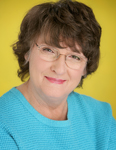 Gai is a professional SAG-AFTRA actress and director of over 500 shows- featuring students as young as 5 and actors as old as 90. Director at Ojai Art Center Theatre, Ojai, CA.  Past President Educational Theatre Association (EdTA) Governing Board; Educational Theatre Foundation (ETF) Founding Board Member; CA Educational Theatre Association (CETA) Past President, VP Membership; Drama Teachers Association of SO CA (DTASC) Advocacy Director; Ojai Art Center Theatre (OACT) Executive Board; El Dorado High School (EDHS) Emeritus Theatre Chair/Educator; AATE Member; AACT Member; SAG-AFTRA Member; Radio Players Performer.
Why is AACT important to the vitality of community theatre?
I first encountered SO CA community theatre in 1965, After retirement, I now serve the Ojai Art Center Theatre as a board member, Youth Branch Chair, Production/Director. Many community theaters recognize the value of youth and intergenerational castings and welcome retired Theatre educators, Theatre artists, and other volunteers. AACT offers valuable resources and connections, articles, webinars, programs, conferences. Every community theater would benefit from these resources. We need safe places for productions, which reflect the world of DEI and LGBTQ+ populations. It is important that community theatres educate audiences and are supported by AACT.
What value will you bring to the AACT Board?
After years as a Theatre educator, I volunteer as Teaching Artist/Director of youth/intergenerational productions, with OACT, the longest operating CA Theater associated with a multiuse Art Center.  I am a part-time Adjunct University Theatre Professor advising pre-service Theatre educators. I know the culture of associations- Board of Directors, Executive Director, Staff Members, Volunteers, and Foundations on local and national levels. I honor the required collaboration/communication. And I take pride in responding to communications within 48 hours even during production weeks.
There are present AACT Board Members who have expertise. I plan on listening/learning. Then I will communicate ideas that progress AACT's mission and strategic goals.
---
Lorien Mahay (Region 2)
Camp Hill, Pennsylvania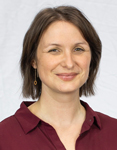 Lorien is the Executive Director of Theatre Harrisburg. She moved from New York in 2021 after five years as the Associate Director for the Alan Alda Center for Communicating Science where she oversaw trainings across the globe using improv techniques to teach science communication to researchers at institutions like NASA, IBM, and the Gates Foundation. She is credited for playing a central role in transforming the Alda Center into the nation's leading science communication training organization. Ms. Mahay earned an MFA in Dramaturgy from Stony Brook University and has worked professionally as an actor, dramaturg, and stage manager. In addition to her work at the Alda Center, Lorien has served as Associate Director of Development at Bay Street Theater in Sag Harbor, New York, and Program Director at the Watermill Center, Robert Wilson's interdisciplinary laboratory for the arts. She currently lives in Camp Hill, PA with her husband and two rambunctious children, Cedric and Lyra.
Why is AACT important to the vitality of community theatre?
I began my tenure as the Executive Director of Theatre Harrisburg in 2021 and, at that time, we were not members of AACT. I worked diligently to weave my way into the community, understand our business practices and history, and work to ensure that the stakeholders in our organization were seen and felt appreciated. Regardless of how hard I worked, what I could not wrap my head around was the difficulty of returning to the arts sector for the first show after our theatre shuttered. I desperately needed guidance and learning/brainstorming opportunities with others who were in the same position as our theatre. Then I found AACT. I immediately signed our theatre up and started attending virtual conferences, roundtables, anything I could get my (or my team's) hands on. We felt like we were in a silo before and if there is anything that the pandemic has taught us, it's that we all need to band together as a (larger) community if we are going to see the bright future that all of us are striving for.
What value will you bring to the AACT Board?
I have been working in the nonprofit sector my entire professional life and I feel that I have gained a breadth of experience from fundraising to team building, new play development, leadership, etc. I have a unique background as a professional dramaturg and would love to be able to help other community theatres explore ways to bring dramaturgy into their organizations. Whether it's organizing a panel, assisting on a committee, or pursuing funding opportunities for AACT, I would be delighted to help as a member of the Board. I am collaborative, I pride myself in being an empathic listener, and I love to link arms with others to pursue new ideas and initiatives.  
---
Jon Montgomery (Region 5)
Dodge City, Kansas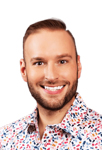 Jon, a native Texan doesn't recall life without theatre. Upon graduating from High School, Jon began acting at Harbor Playhouse in Corpus Christi, Texas. His theatre education eventually took him to Del Mar College, the University of Northern Colorado, and Texas A&M University – Corpus Christi. Jon has cultivated and maintained great relationships with the theatres that he has worked with, including Basin Theatre Works, The Depot Theater, Pasadena Little Theatre, The Alley Theatre, Harbor Playhouse, Aurora Arts Theater, Port Aransas Community Theatre, The Rialto Theatre, Rockport Little Theatre, and the Union Colony Civic Center. In addition to his work with theatres, he has served in the role of Special Interests Chair for on the K-12 Education Committee for the Texas Educational Theatre Association and is
a former Advisory Board Member for the Dodge City Convention and Visitors Bureau. Jon has worked as an Executive Director for Basin Theatre Works, an Executive Artistic Director for The Depot Theater in Dodge City, Kansas, an Educational Program Manager for The Alley Theatre in Houston, Texas, and was the Fine Arts Director and Theatre Instructor for Incarnate Word Academy in Corpus Christi, Texas. He is a Founding Member of Dead Creek Theatre Company, the Co-Founder of Artists Crafting Theatre, and a Co-Founder of The Watershed Theatre. As of October 2022, Jon is an Associate Member of the Union for Professional Directors and Choreographers: The Stage Directors and Choreographers Society. Jon's areas of expertise lie in: Acting, Directing, Choreography, and Theatre Education.
Why is AACT important to the vitality of community theatre?
I started in theatre when I was four years old – the first time I had ever heard about the AACT. Thirty-four years later, it has become a cornerstone in my own career. The AACT enables and supports community theatres of all stages of operation to operate at their best capacity. With community theatre being the most popular form of nonprofit operation within the industry, this is of paramount importance. AACT provides the necessary resources for budding young community theatres to begin and has supported and assisted many more veteran community theatres to become the successes that they are today. The mission of AACT is: "AACT helps theatres thrive." – this is an incredible burden to undertake. I believe that AACT and its resources will be the reason that community theatre thrives for many more generations.
What value will you bring to the AACT Board?
I am a hardworking and creative professional – passionate about theatre, arts, social justice and restoration, equality, education, and the avenues they can create to influence and transform people's perspectives. My greatest joys are taking an objective view of experiences and leading diverse teams through innovative solutions that exceed objectives and building and sustaining a human-centered culture so teams and individuals can achieve their potential. All of this to say – Inclusion, Diversity, Equity, and Accessibility (IDEA) are all core values of mine. I would like to be part of building a stronger IDEA position for AACT that will ultimately infiltrate into our vast network of community theatres. In addition to this, I look forward to connecting with community theatres all over the country to be a resource to assist with their unique challenges. Community theatre really is where people from all walks of life come together over their sheer love and joy for theatre. I want to be someone that champions that cause, on a national level.
---
Julie Nemitz (Region 3)
Portage, Michigan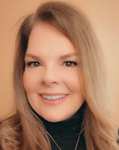 Julie holds a decade-long tenure as a senior sales and marketing executive leadership partnering with Fortune 500 companies and leading roles at award-winning marketing agencies. She's known for excelling in strategic vision and content marketing innovation. In fact, Julie produced over 110 theatre marketing campaigns and strategic plans in the last five years. She seeks to help theatres sell more tickets and grow audience loyalty by teaching and activating the latest, best marketing strategies so more people in their community can experience the joy of live theatre together.
Why is AACT important to the vitality of community theatre?
Because AACT is always evolving to meet the immediate and long-term needs of community theatres worldwide, they continue to be the single most valuable resource to theatrical organizations whether they're launching their first season or a theatre with hundreds of years producing local theatre. What's more, AACT is a single-stop resource that helps keep theatre moving forward (a phrase I say often!) and is comprised of leadership, staff, and members with common experiences, goals, and dreams for their theatres.
 
What value will you bring to the AACT Board?
The value I believe I bring to AACT's board is experience with theatres of different sizes and operating budgets from across North America. As a member of other theatrical board of directors and artistic committees, I also have practical experience with programming, fundraising, and production best practices. Additionally, because I also work with professional regional theatres, I can bring learnings from those organizations and apply best practices to community theatre strategies.
---
Kristi Quinn (Region 5)
Dakota City, Nebraska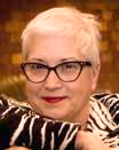 Kristi has been active in community theatre for over 30 years. Her theatre experience includes acting, directing, set decoration, and costume design as well as public relations, grant writing, and development. She has adjudicated a number of festivals, including the 2017 national AACTFest, and is leading the 2023 AACT Adjudication Workshop. She has participated as a core committee member and chair of several state and regional festivals. She has served as executive director of the Sioux City Community Theatre, and development director of the Sioux City Art Center. She leads the theatre and speech programs at the Sergeant Bluff-Luton Community Schools. She was a board member of the Nebraska Association of Community Theatre. Formerly the AACT Vice President for Festivals, Kristi also served for six years as the Region V Representative and currently serves as the President of the American Association of Community Theatre Board of Directors. A firm believer in giving back to the community, Kristi is Managing Director of the South Sioux City Area Chamber of Commerce and Tourism.
Why is AACT important to the vitality of community theatre?
Community theatres are vital to the communities they serve. Not only enhancing the quality of life and providing safe havens for diverse populations, but community theatres also grow economic development, provide opportunities for youth and seniors, and are cultural outlets. For community theatres to prosper, these organizations need a national force to provide education and answers, friends and collaborators, opportunities to grow and flourish in their communities thereby giving back to their communities what is learned through the national involvement. AACT is that national force. It is the haven for community theatres, no matter the size, to look to for answers, education, and opportunities.
What value will you bring to the AACT Board?
Having served in many different community theatre roles I feel I bring an understanding of what community theatre is experiencing on varied levels. I have worked as theatre staff, volunteer, board member, and teacher. In my professional life I have worked for non-profits in both leadership and development. I understand that AACT has experienced and knowledgeable members and friends who I am not afraid to ask for help and guidance.
Plus, I love community theatre.
---
Greg Thompson (Region 4)
Ocala, Florida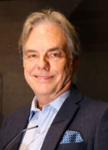 Greg currently serves as Executive & Artistic Director for Ocala Civic Theatre in Ocala, FL. Greg is an award-winning film and theatre artist and has been a member of Actor's Equity Association, Society of Directors and Choreographers, and is SAG-AFTRA eligible. For more than three decades he has served as Director/Choreographer, Director, Choreographer, Actor, Singer, Dancer and/or Production Designer for more than three hundred theatrical, film and media productions throughout the U.S. His work has encompassed Non-Musical and Musical Theatre, Opera, Light Opera, Film,Television, Dance, Voice Over, Academic Theatre, Corporate Theatre, Cruise Ship and Theme Park entertainment. In addition to his production work, Mr. Thompson has held teaching positions with several Colleges, Universities and Performing Arts High Schools (including the acclaimed DeKalb Center for the Arts, Atlanta, GA) throughout the Eastern US. Thompson also developed and implemented several courses of study for therapeutic dance and drama for the Kennedy Center's VSA program, including the New Visions Ballet Curriculum for the blind. Mr. Thompson recently served for three years on the Theatre and Dance Faculty at the University of Texas.
Why is AACT important to the vitality of community theatre?
I think it is not only important but necessary. I am a huge believer in collaboration- the communication of our shared experiences and the knowledge we gain from them give us strength. I think an organization like AACT is not only a microphone that amplifies the voices of every theater it represents and advocates for, but it also gives us a shared backbone and core strength.
What value will you bring to the AACT Board?
I am a hopeless optimist. I have the unique ability to think, act and speak from my head and my heart at the same time. While I see problems, I focus on solutions. As Executive & Artistic Director of Ocala Civic Theatre it is necessary to wear many hats, but the overarching job is inspiring artistic excellence while ensuring fiscal responsibly and sustainability at all times.
---
Jennifer Van Bruggen-Hamilton (Region 9)
Toledo, Oregon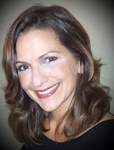 Jennifer began her professional theatre work as the Education Director for Topeka Civic Theatre and Academy in Topeka, Kansas, a position she held from 2002 until 2014. In that role, she administered year-round classes for ages four through adult; helped to create a teen improvisation performance troupe; developed outreach programming for area schools and underserved communities, and directed over 50 youth and TYA (theatre for young audiences) productions.  She currently works in partnership with the Oregon Coast Council for the Arts,where she has launched new summer theatre camps for area youth.  Ms. Hamilton also serves on the board of The Porthole Players, a local AACT-member theatre, for whom she will be directing Roald Dahl's "Matilda" in the fall of 2023.   Earning her Bachelor of Arts in Theatre from Sterling College in 1993, Jennifer subsequently earned her Master of Arts in Theatre & Film from the University of Kansas in 2003 where she also taught Improvisation and Introduction to the Theatre. Jennifer's first exposure to AACT was in 2003 when she attended the Education Director's conference in Grand Rapids, MI. Five years later she facilitated the same conference in Kansas City for AACT.  She became heavily involved in committee work from 2009 to 2012.  After taking a hiatus to raise children, Jennifer came back to help create and facilitate the Youth Conference (run in conjunction with AACTfest and YouthFest) which she continues to do. She also facilitated the Education leg of AACT's TEAM conference in Salt Lake City in 2018. Jennifer is very interested in cultivating the next generation of AACT members and leaders. After taking the Adjudication course during the pandemic, Jennifer is just starting on the road to adjudicating, having dipped her toes in to adjudicate an Oregon State entry. She currently works full-time as a Title 1 Teaching assistant for the Lincoln County School District.  She and her husband live with their two children in Toledo, Oregon.
Why is AACT important to the vitality of theatre?
AACT exists to support community theatres through building relationships.  When someone becomes a member of AACT they immediately have direct access to other community theatres around the country who can network with them to reach their goals.  Whether that be putting on their first production, figuring out how to recruit/train volunteers, or how to best develop fundraising strategies.  AACT is VITAL to community theatre because it gives theatre-makers access to tools that will help them excel.  
What value will you bring to the AACT board?
I will continue to work with youth through the youth activities committee.  Personally, community theatre changed my life when I was 15.  I am passionate about youth theatre and AACT's future.  I believe that GETTING them to a festival is the first step to fostering the next generation of AACT Leaders.  I am also excited to become more involved in the festival cycle for Region 9 to be a support local community theatres through AACT. 
---