Community Theatre Impact & History
Enriching the lives of millions
Making a difference in so many ways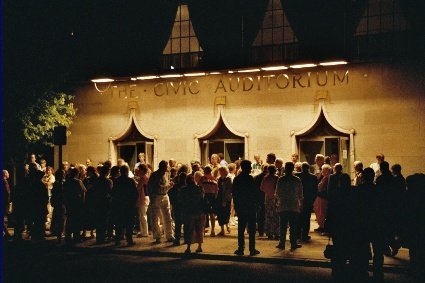 Community theatres involve more participants, present more performances of more productions, and play to more people than any other performing art in the country.
Photo: Kalamazoo [MI] Civic Theatre
Essential to the Cultural Health of Our Communities

Community theatre enriches the lives of those who take an active part in it, as well as those in the community who benefit from live theatre productions. On either side of the footlights, those involved represent a diversity of age, culture, life experience, and a strong appreciation of the importance of the arts.
For information on the economic impact of theatre and the other performing arts, visit our Advocacy pages.
---
Life-Changing & Expanding Experiences

Below are the words of some of those whose lives have been touched by their involvement in community theatre. Their listed theatre affiliation and city were current at the time their comment was provided.
I believe that community theatre is America's theatre. For a variety of reasons, community theatre thrives in this nation like nowhere else in the world. Seeing the positive impact that it can have on youth, seniors, area businesses, and a community's identity is a humbling but energizing experience. Our ongoing challenge is to continue to raise the bar on our work-constantly make it better-while continuing to have that positive impact that theatre education and participation bring.
- Murray Chase, Venice [FL] Theatre
Community theatre offers a gateway to new worlds of experience, emotion and knowledge. It has been such a joy to explore those worlds with colleagues and friends, volunteers and audiences in my own city and across the country.
- Mary Doveton, Lawrence [KS] Community Theatre
The theatre has opened my eyes and shown me the life of others in a way I could never have hoped to see by simply sharing a conversation with them. I have seen inside the souls of people whose passion for the stage is as deep as mine and whose gifts are deeper. Each time I become part of a production, I am thankful that I have the eyes to see, the ears to hear and the heart to feel what is in front of me.
- Annette Procunier, Theatre Thoughts, Ltd., Ontario, Canada
During my career, I've had the privilege to work with tens of thousands of theatrical organizations: I'm most proud of my affiliation with community theatres. By promoting unity, creating an accepting environment for debate, self-expression and interactivity, community theatre is the centerpiece to the fabric of our society; an unmatched component to the very health of our neighborhoods, towns and cities.
- Steve Spiegel, Theatrical Rights Worldwide (TRW)
Community theatre is that wonderful network of friends we can laugh with, cry with, argue with, party with, and yet come together to provide wonderful entertainment for our communities. Because of community theatre I have an extended family around the world who share the same love and excitement of the performance
- Frank Peot, Sun Prairie, WI
It is a great joy to me to provide community members the chance to dare and scare themselves; to find and share their talents; to spread their wings and their horizons; and, often, find a home.
- Dane Winters, Roadside Theater, US Army Entertainment, Heidelberg, Germany
Community theatre has the special power to bring us together, to help our towns become communities. I have always been grateful for the opportunity to participate in our community theatre's desire--and efforts--to meet these goals.
- Robert G. Anderson, Starkville [MS] Community Theatre
As a shy young child I did not feel a part of my group of peers. When I joined community theatre, I suddenly became a part of a group of people who accepted me and used my talents. I was able to grow and find my own way in the world. I am sensitive to this need in young people coming along, as well as talented adults. An active community theatre should be a part of any community which hopes to grow and prosper--in business as well as culture.
- John Kollock, Habersham [GA] Community Theatre
Community theater offers the best of every world. There are the creative aspects, the artistic aspects, the business aspects, the social and social services aspects, just a myriad of outlets for every soul who chooses to pursue this activity. It's been fun, challenging, frustrating, interesting, rewarding!
- Rae Cohen, Newport Theatre Arts Center, Newport Beach, CA
Community theatre enriched my life by providing me opportunities to work with a diverse group of creative people who share a vision of putting on quality plays that not only entertain the audience but also broaden their understanding of the world in which we live.
- Max Polley, Davidson (NC) Community Players
From my first involvement in community theatre, I have been awestruck by the power of our endeavor to transform lives. Literally, all who participate, from the backstage crew to the chorus, to the ticket taker, to the leading performer come away from the experience with fond memories that will last a lifetime. I often hear someone say, 'It ain't brain surgery, it's just community theatre' to people who are perhaps taking their involvement in community theatre too seriously, trying too hard to make it 'just right.' I generally react by saying, 'You're right, but it's as close as we're going to get, and probably just as important.'
- John Viars, Executive Director, Des Moines Playhouse/Kate Goldman Theatre, Des Moines, IA
The thousands of community theatres through out the country can be a tremendous force for good. An excellent play, comedy or drama, can cause us to pay more attention to how we treat our fellow man - how we act and think. This can result in uncovering wrongs and correcting them and result in much progress for all mankind.
- Pat White, Amherst, MA
I have worked in community theatre, and the so-called 'non-professionals' are anything but. The work there is so real and so good that I was stimulated to do more.
- Patty Duke, Actress
My community theatre journey has been a continuing gift of knowledge, creativity, growth, affirmation, friendship, and love. I have had the pleasure of being taught, mentored and challenged by those who expected nothing less than the best that I had to offer at that moment. Through them I learned that the joy comes not only in the applause, but also in the reaching, risking and growing.
-  Shirley Cockrell, Oneida, NY
A friend who used to move a lot told me that every time he moved, he would find a community theatre in which to participate. He knew it was a place he would always feel welcome. It was also a comfortable atmosphere, with the diverse personalities and backgrounds; a person could always find someone with whom to relate. This has been true for me as well--in Michigan, the United States, around the world.
- Shirley Harbin, Detroit. MI
Community theatres provide tremendous opportunities, following formal or informal training in K-12 schools and colleges, by bridging those experiences to a lifetime of continuous support as an audience member, understanding donor and advocate, active participant, or professional employee.
- Harv Thompson, University of Wisconsin, Madison (retired)
I started out with an intense desire for a theatrical career. Thanks to community theatre I have, indeed, had a long, happy and very successful career in theatre. I've acted, produced, swept floors, cleaned johns, run lights, sold tickets, served on the board, gathered props, designed sets. I played roles I would not have been able to touch on Broadway. And I've enjoyed every minute of it.
-  Isabella Ward, Dover, DE
What I love about community theatre is that it gives all of us a chance to explore and develop our particular interests and talents. I began as a performer, but over the years I moved into producing and directing, plus occasional forays into lighting design, playwriting, and management. In all cases, community theatre was my classroom, where I learned by watching, listening, and doing. It was in community theatre that I found myself truly fulfilled. I often hear people say, 'I am blessed' about something or other. When it comes to my life in community theatre, I understand exactly what they mean.
- Stephen Peithman, Founding Editor, Stage Directions Magazine
Community theater is part of the social fabric of most communities, and in small venues may be the only local live, performing arts possibility that exists. It is also the first introduction to theater for many students (or perhaps the second if performing arts exist in the school system.) Community theater is usually affordable even if other entertainment exists.
- Jon Kerkhoff, Principal, Lund Company, Omaha, NE
Community theatre builds community pride. Audiences are proud to identify talented performers as "my student," "my teacher," "my minister." Attending community theater performances builds our sense of membership in our community.
- Harvey Tucker, Professor Texas A&M University
Community theatre is a comprehensive program that involves the "viewer" (audience member) and the "doer" (participant). It is a program in which participants can be involved at any age, and once participants get involved, they often remain involved for their entire lives. The complexity and diversity of the skills required to produce a performance offer opportunities for anyone who has the time to give. Participation in community theatre brings with it an immediate social circle, and all the networking benefits that such group endeavors can provide.
- James Sohre, Director of U.S. Army Europe Entertainment
Community theatre is a team effort opportunity for people of all talents, skills and energy . It enriches the community -- financially and artistically. Theatre is a wonderful leveler of people -- background becomes a moot issue. Plumbers work with and act next to bank presidents, children, and occasionally dogs.
- JoAnne Nissen,  Retired Vice President, MRA-The Management Association, Racine, WI