AACT's Bi-monthly Magazine
Entertaining, informative, indispensable
Spotlight is the official publication of the American Association of Community Theatre, mailed to organizational & individual members, and also available to members and non-members for viewing online.  Click here for information on how to advertise in Spotlight
---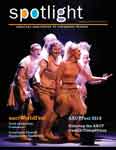 Contents: aactWorldFest 2018;  Organizing aactWorldFest;  AACT National Awards;  Entering the AACT Design Competition; Yes, Theatre Changes Lives!;  AACTFest 2019;  Insurance Points.
Note:  Pages may take moment to pop into focus. Increasing the page size may improve focus, as well (use the "slider" tool at the top left in full-page "read" mode).  The flip-page version requires the Flash plug-in--download it free from Adobe.  Both current and back issues also also available as PDF files, below.
.
>> Click here to view/download issues of Spotlight in PDF (Adobe Acrobat) format, from the most current issue back to 2013.
---