Choosing and staging a play or musical - or a whole season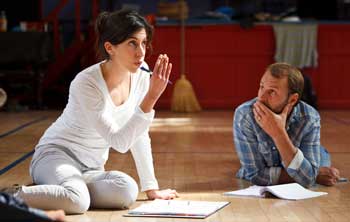 Putting on a play takes a great deal of work, organization and time. From the page to the stage, there are challenges to be met: choosing a script, securing rights, gathering a production team, building sets, making costumes, organizing rehearsals, directing the actors, and more.
Photo: Director Natalie Abrahami
Looking for a Play?

Looking for a particular play or publisher? Check out AACT's Play Sources page, with a list of publishers & other sources--including AACT-member playwrights and AACT's exclusive Play Finder.
Rights & Royalties

Producing a copyrighted work requires permission and/or payment of royalties (including background music used in a production or performed on stage as part of a play)--whether you charge admission or not, and whether you are a for-profit or not-for-profit theatre, or a school. Learn all the facts on our Rights & Royalties pages.
Help on Script Changes & Videotaping

Discounts

Check out the many Discounts & Special Offers for AACT members. For example, Music Theatre International provides AACT organizational members with substantial discounts on standard rental fees on MTI musicals.   
More

Check the Production menu on this page for more help.