Celebrating Resilience, Strengthening Resolve
Virtual AACTFest 2021, June 14 – 20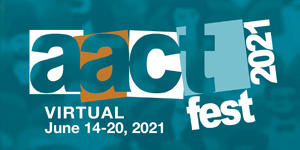 For the past year, community theatres around the country have had to make difficult decisions due to the pressures and restrictions imposed by the global pandemic, functioning in survival mode.  
But theatre is resilient, and companies around the country are pivoting, redefining, and reimagining who they are, and how they will continue to serve their communities now and into a post-pandemic future.
AACTFest 2021 celebrated those stories of resiliency, moving attendees from survive to thrive, as it showcased and celebrated the best of community theatre in America.  Keynotes, workshops, educational programming, and special events focused on supporting theatres through this evolutionary journey.
This exciting week in June included:
Theatre from around the country—12 Show Performances and Adjudications
Workshops/training courses from theatre professionals around the country—in all, over 50 educational events, workshops, roundtables to help move you into the new season
Keynotes and special guests, including Chilina Kennedy (star of Beautiful: The Carole King Musical, on Broadway), Phil Hernandez (Javert in the original New York production of Les Misérables), director Jeff Calhoun (Tony nominee for Disney's Newsies, Tony Honor for Excellence in Theatre Award for Deaf West Theater's Big River), and more to come.
Celebrity guest appearances
Design Competition and Adjudications
Online social networking, events and games
Virtual booths, exhibits, and industry demos
Festival Award Ceremony
Access to post-festival content.
"We are particularly excited about the possibilities the festival offers to those who could not attend national festivals in years past, due to the cost of travel and accommodations," said AACT Executive Director Quiana Clark-Roland before the festival opened. "Virtual AACTFest 2021 is about illuminating and celebrating the power of art, artistic excellence, and most importantly, the value of community theatre in the country.  I am so proud that we can expand on that message, and share the art of community theatre to the world!"
Twelve Virtual AACTFest 2021 National Company productions were streamed during the week of the festival. Eleven of these were selected from applications from 38 theatres around the country. A 12th production was presented from AACT Region X, which represents community theatres on U.S. military bases in Europe. More here.
Colvin Theatrical, a professional video production crew, traveled to the selected AACTFest 2021 National Companies, and record productions to be presented during Virtual AACTFest. They recorded each show on four professional Blackmagic cinema cameras, with a mixture of close-ups, wide angles and moving shots. Using live-editing and broadcasting technology, each performance video emulated the theatrical experience each finalist would have at an in-person AACTFest, while maintaining professional, high-quality cinematic standards. Colvin has produced theatrical videos with artists all over the world. Since the beginning of the pandemic, they have helped theatres and other live-performance organizations produce digital livestreams that reach audiences dozens of times the size of their pre-pandemic houses. AACT was excited to work with Colvin Theatrical to create an exciting, stimulating, festival experience, while providing a blueprint for community theatres to take advantage of these new technologies, and grow their digital audiences.
Broadway On Demand broadcast the performances during festival week. Broadway On Demand, considered the premier streaming platform, offering exclusive livestream events, and a wide-ranging library of video on demand content, offered AACTFest attendees two ways to view festival performances:
AACT used the Whova laptop/mobile app to keep attendees abreast of all activities during Virtual AACTFest 2021. This full-featured app was available two weeks prior to the festival, so users could check out all events, and set their schedule accordingly. 
Keynote Speakers throughout the week shared their experiences as performers and theatre makers. Check our Keynoters page for the amazing list of presenters.
Educational Workshops. Among the over 60 events planned for AACTFest 2021 were workshops and panels aimed at what we need most—revitalization. Reflecting the current global health crisis, with many performing arts organizations temporarily closed, workshops included topics related to COVID-19 recovery, including outreach, reinventing productions, audience safety, and communications. There also was a well-rounded roster of workshops for directors, actors, designers, administrators, educators, and marketers. Attendees learned new technological advances, and participate in forums addressing inclusion, diversity, and accessibility, as well as other challenges brought into sharp focus in the past year.
Providing theatres and designers an opportunity to shine, the 2021 Virtual Design Competition—Best of the Decade! showcased the best of community theatre creativity. AACT-member theatres and their designers entered projects occurring between July 1, 2011 and May 1, 2021, in any of five design categories, including Scenic, Lighting, Properties, Costume, and Special Design. More information here.
The festival also included an online Exhibit Hall through the Whova festival app, allowing attendees to network with theatre vendors for answers to theatre-related questions. The AACTFest Virtual Exhibit Hall also enabled vendors to explain who they are and what they do, demonstrate their products and services through video and live-streams, and speak one-on-one with interested attendees. Check here for more information.
The AACT Silent Auction benefitted the AACT Endowment Festival Support Fund, and the 12 companies participating in the national Virtual AACTFest 2021. Auction items could be viewed and purchased online, even for those not registered for Virtual AACTFest 2021. See the Silent Auction page for more information.
All good things come to an end, and festival week concluded with the AACTFest 2021 Awards Ceremony, honoring the productions presented during the festival, and the actors, directors, designers and crew who participated.