In Support of the AACT Endowment
Contribute Items and Help Build the AACT Endowment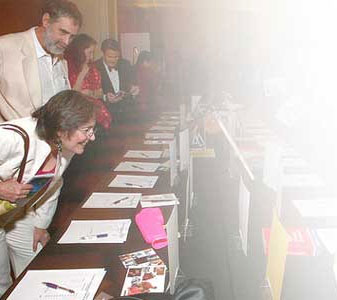 Contribute to the fun of the national festival with the fundraisers for the AACT Endowment Fund. Even if you can't attend the festival, you are invited to contribute a special item to the Silent Auction at the national festival in Gettysburg, Pennyslvania in June.
The AACT Endowment funds sustain the mission and longevity of AACT, and also provide travel assistance to companies representing their regions at the national festival. Proceeds from the Silent Auction go to the AACT Endowment Mission Fund
The 12 companies participating in the national AACTFest 2019 will each receive a grant from the Endowment to help cover expenses of traveling to the festival.
Items Sought
Items are requested with minimum value of $100 per item, basket, or group of items to auction together. Suggestions for best sellers:
Fine jewelry, gourmet candy or chocolate (from your state or region)
Fine works of art
Destination experiences or entertainment (gift passes to movies, etc.)
Gift cards to national chain restaurants, department stores, Amazon, etc.
Surprise us with something fantastic
How to Contribute Items
Please send items for the Silent Auction to arrive by June 14 to: AACT Silent Auction, Attn: Chad-Alan Carr,  Gettysburg Community Theatre  49 York St, Gettysburg, PA 17325. You may also bring items with you to the festival. Deliver to the Festival Registration desk located in the lobby of the Gettysburg Hotel.
Important:
In order to prepare bid sheets, etc., we need to know by June 14 what you intend to contribute.
Please complete the Auction Contribution form or email info@aact.org a description of the items you are sending, their value, the method you intend to use for delivery, and when they will arrive.
Questions? Contact the AACT office at 817-732-3177 or info@aact.org.
People's Choice
The Festival will also be enlivened by a People's Choice Award competition and a raffle. The People's Choice Awards allow company fans and festival attendees to vote with their pocketbooks for their favorite company, actor, and actress. One dollar buys one vote or six votes for five dollars. Voting can be done at the festival or on the benefactor.org website. Website votes will be six votes for five dollars. Fans do not have to attend the festival to vote. Proceeds from the People's Choice Awards and the raffle will benefit the Travel Fund.
Thank you for supporting the AACT Endowment Fund!
The American Association of Community Theatre is a nonprofit, IRS 501(c)(3), corporation. 
Contributions are tax deductible as allowed by law.